Swantje Hoffmann - Violin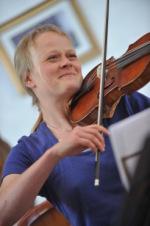 Swantje Hoffmann(violin) studied with Prof. Walter Forchert (Frankfurt am Main) and Prof. Nora Chastain (Lübeck, postgraduate soloist class) as well as baroque violin with Prof. Petra Müllejans (Frankfurt, postgraduate early music class).
In addition to intensive chamber music activity with her piano trio ("Trio Sveg") and solo performances, she is a member of the Freiburg Baroque Orchestra and the Marini Consort Innsbruck (late Renaissance and early Baroque music). In 2003 she was winner (ex aequo) of the International Baroque Violin Competition "Premio Bonporti", Italy. In 2005 she won the 3rd prize at the "Solistenwettbewerb Musica Antiqua" in Bruges. Since 2003 Swantje Hoffmann has a teaching position for violin and baroque violin at the Musikhochschule Frankfurt/Main.