Maria Ferré - Guitar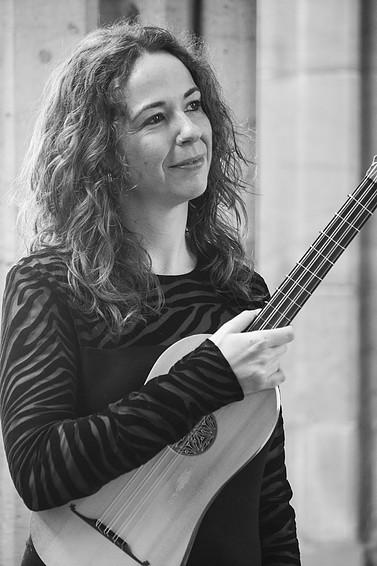 The Catalan lutenist and guitarist Maria Ferré graduated in studies of the classical guitar at the Conservatori Superior del Liceu de Barcelona (Spain). She then became increasingly interested in the performance practice on historical instruments and began to continue her studies for lute and other historical plucked instrument with Rolf Lislevand at the Musikhochschule Trossingen (Germany) in 1999. She completed her musical studies at the Schola Cantorum Basliliensis in Basel with Hopkinson Smith from 2003 to 2006. During these years Maria Ferré also participated in various master classes, e.g. with Jordi Savall, Jean Tubéry, Charles Toet, Anthony Rooley and Dominique Vellard.
Maria Ferré has already often performed internationally as a soloist and in various ensembles in Europe, as well as in Mexico and in the USA.
Maria Ferré performs with a wide repertoire starting from late medieval music to baroque compositions. She collaborates among others with internationally renowned colleagues like Carlos Mena, Philippe Jaroussky, Patricia Petibon, María Espada, Paolo Pandolfo, Rudi Lutz, Maria Cristina Kiehr, Lorenz Duftschmid, Murat Coşkun, or ensembles such as the Freiburger Spielleyt, Vocal Ensemble Zürich, Bassorum Vox, and her co-founded ensembles La Traditora, l'Art du Bois and the Duo M&M. With these artists, she performed at the Schwetzingen Festival (SWR), Tamburi Mundi Freiburg (SWR), Arithmeum Bonn (WDR), at the Göttingen Festival and the Early Music Festival Zürich (SRF).
The second musical aspect of her work, which is very close to her heart, is the artistic basso continuo play in works for opera and orchestra of the 17th or 18th century. In this sense, she participated in numerous musical projects with various orchestras across Europe, e.g. Ambronay Baroque Orchestra under the direction of Cristophe Rousset, the Norwegian Chamber orchestra conducted by Fabio Biondi, at the Theater Basel, the Amsterdam Concertgebouw, the Auditorio de Madrid, the Palau de la Música de Barcelona, with La Cetra Barockorchester Basel under Andrea Marcon, with the Freiburg Baroque Orchestra, with the Venice Baroque Orchestra, with Concerto Köln, with Cappella Mediterranea, at the Opera in Frankfurt/Main, at the Wigmore Hall London and at the Nationale Opera & Ballet Amsterdam.
In October 2006, Maria Ferré won the Van Wassenaer Competition (The Hague), in September 2007 the Concurso Nervi (Genova) and in August 2009 the Early Music Competition (Bruges) together with the Ensemble L'Art du Bois. This-multi talented artist can now be heard on numerous CD redordings. In addition to her artistic activities, Maria Ferré teaches the guitar at the Music School in Birsfelden (Switzerland).