Monika Mauch – Sopran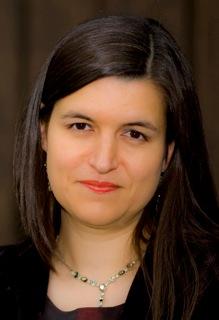 Monika Mauch, born in Baden-Württemberg, began her vocal studies at the Institute for Early Music at the Musikhochschule Trossingen with bass-baritone Richard Wistreich, followed by a year of study in Paris with Jill Feldman.
Her singing career began in Philipp Pierlot's Ricercar Ensemble together with the wind ensemble La Fenice under Jean Tubéry, in the ensemble Ordo Virtutum under the direction of Stefan Morent, with the Taverner Consort under Andrew Parrot and with Red Byrd (John Potter and Richard Wistreich).
Mauch's work with Cantus Coelln shines in recordings such as the Altbach Archive and Bach's B minor Mass on Harmonia Mundi France.
Likewise, she recently showed her qualities in concerts and recordings of Carissimi, Buxthehude and Biber with La Capella Ducale and Musica Fiata conducted by Roland Wilson, in the interesting Baroque and Renaissance programmes of Ensemble Weser Renaissance conducted by Manfred Cordes, followed by concerts with Collegium Vocale Gent under Philip Herreweghe. She also very much enjoys warm collaborations with Concerto Palatino led by Bruce Dickey and Charles Toet.
Important was the success of her collaboration with the Hilliard Ensemble with the ECM recording 'Morimur'. A recording of Gesualdo madrigals is in planning. A source of excellent concerts and CDs in the Renaissance repertoire is her collaboration with Ensemble Daedalus under the direction of Roberto Festa. The CordArte Ensemble in Cologne, the Ensemble Caprice conducted by Matthias Mauthe, the most diverse performances with Montreal Baroque, les Cornets Noirs, conducted by the cornetto virtuosos Frithjof Smith and Gebhard David, and Pierre Pitzl's Ensemble Private Musique, especially its CD 'Tonos Humanos' with Monika Mauch and Josep Cabré, show music of unique beauty.
Recently Monika Mauch has been working with lutenist Nigel North on a number of concert programmes, which eventually led to an ECM New Series recording of Robert Dowland's Musical Banquet.